Y'know how I'm into electronics and technology these days, right? So the Mini-Pimp was getting his Gmail on ('cause they stopped shutting ya boy down) and I got some "fan-mail" from a "fan". This is what it read:

I got what I THOUGHT was invite to ya Ti-Ti's 30-something'ish

(<--cuz we've all seen the TRILL burf date!)

bday party. When I opened it up, I was surprised to see NOT an invite covered in a lock of #27 Curly Fry...OH NO! But an

SOS

...written in blood and lacefront glue...from Kizzy and Michelle. Is torturing the souls and careers of lesser-talented individuals the way your Ti-Ti is celebrating her third decade?! Shouldn't she be rallying the troops to go to the nearest FYE to make it rain on ya mama's crumb-wiper instead?
Dear Savvy,
Didn't nobody invite you to the party. You had to be of Creole origin, a Louisianian descendant, from the H, or a Popeye's delivery person to attend this fiesta-fiesta. That was just Cousin Angie playing a joke on you for swagger jacking her alias. She was the ORIGINAL Savvy Fatty. She just needed to gain a lil' bit mo' but you know how my Pop-Pop is. Slapping chicken thighs outta her hand before she could stick 'em in her mouth. Something tragic. And no my Tee-Tee is NOT 30-something. That's my Uncle Joe.
And as for my mother's "crumb-wiper", I would like to, on behalf of Savvy's fuckupings, alert all readers. Make one mo' motherfucking joke about my momma's CD going half a Miss Kelly and we gon' swab! We all know that Sam Goody and Billboard are the ones to blame.
---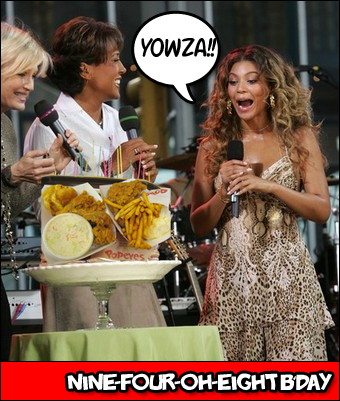 Happy B'Day, Tee-Tee. I got you a new outfit, complete with matching hair and a dildo skirt. You know you like that.
SIDEBAR

: Swagger jacking, right?