We interrupt this return of fuckery to give you a word from our sponsors: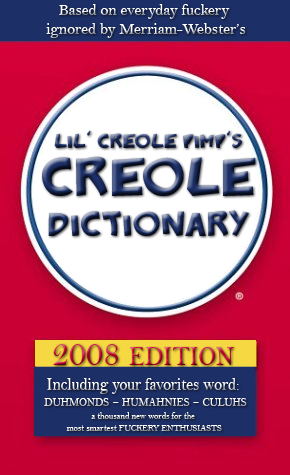 From the people who brought you House Of Dereon, B'Day: The Deluxe Edition, The Beyoncé Experience, Miss Kelly, Miss Kelly: The Deluxe Diva Edition, Miss Kelly: The I Got Bills To Pay Edition, Dereon's Activator Spray made for Yaki, The Wig Crypt's "Ballin' On A Budget" line of wigs made from 57% human-hair 43% conflict-free yaki, Miss Kelly: The $1.99 Value Meal Compilation, Samsung's B'Phone, Samsung's B'Pager, Samsung's B'Telegraph System, Miss Tina's House of Fashions, Kizzy's wig at Solange's wedding and Fire Engine #5 Red lipstick comes the new "Lil' Creole Pimp's Creole Dictionary"...
Never before seen and not sold in stores, the LCPC Creole Dictionary is a collector's item like no other. Why should we continue to plug this product? You've had enough time to get your checkbook out by now.
BUY! BUY! BUY!
Use only, credit, debit, check, and/or money order. No CODs. No IOUs. No cheeseburgers in brown paper bags.