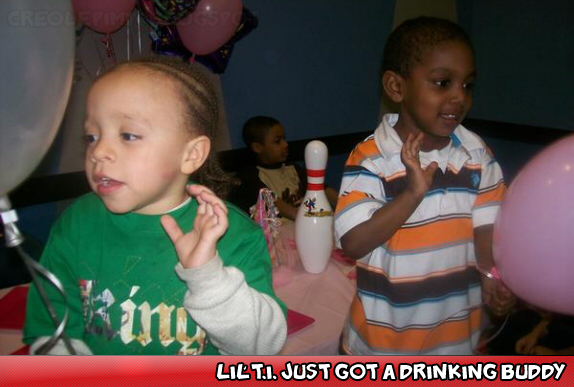 So I got outta preschool today and decided to troll the black blogosphere. BAM!!!! Fresh broke my damn heart. Putting up pictures of Lil' T.I. My new nemesis. Talmbout he got a new baby brother. Eff that! The naggah stole my Nintendo DS and took my only two dollar bill out my baby book. I had to bring it to class for show and tell. Here I go thinking, "It's safe at Buttons, Bows, & Barettes. Don't nobody there be stealing." Somebody made a fool out of me.

We gon' fight one day. Mark my words. I'ma hit up Granny, ask her to bless me with that divine power if you get my drift. Turn a couple of y'all hoes into applesauce and blind Mongolian zebras.

Think I'm playing?

My tee-tee need to stop frontin' and put some beans in that oven so I can get a new shanking partner that share my bloodtype. Meaning: a relative. I'm tired of running 'round with BIG TON. He attract too much attention. But like I said, Tee-Tee lay on ya back and let Unc get on his job. 'Cause we all know ain't nobody checking on this ONE.

SIDEBAR: Eyebrows, anyone?