FRESH, you know I'm camera shy!
So I'm doing my thug-dizzle... chillaxin' and watching a few games and the 'razzi was all in my grill. But I'm a boss so I stay representing for my team, y'know.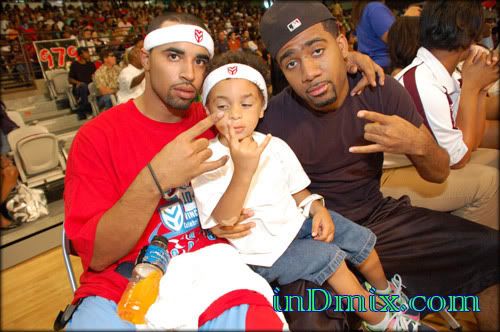 Thoughts scrolling through my head while posing for the cameras:
"What the eff am I throwing up?"
"Why am I sitting in

DONALD FAISON'S

lap?"
"Why am I sitting in Lil' Flip's lap?"
"When did Flip cut his braids off?"
"Why ol' boy got his arm 'round ol' dude?"
"Get that finger out my face. I don't know where yo' hands been!"
"Is this a window lickers convention 'cause these two niggas look certified?"
"I bet not see Big Ton in here."
"It's so mighty funny these nigrums taking me to sporting events, but

WHERE MY DADDY AT

?"