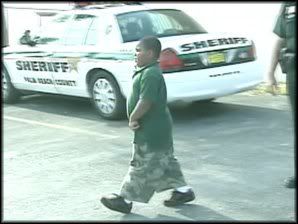 I gotta stop and rant real quick. I be on my thug-nizzle. Don't be hurting nobody (sometimes). But I only hurt people that hurt me first. Old lady from down the street sprayed me with her water hose because I kicked her mutt the other day. Mutt shouldn'ta shitted on my G-Nikes. So I got my homeboy to ride on that pissy pooch.
Police say a 7-year-old South Florida boy faces grand theft auto charges after taking his grandmother's Dodge Durango for a joyride.




The eight minute trek left a swath of damage in his Palm Beach Gardens neighborhood Friday. The boy smashed mailboxes, hit parked cars and signposts. He was unhurt.



Police say he literally drove until a wheel fell off. The right front wheel, to be exact, which broke off after the boy hit a sign. The boy's mother says he apparently grabbed the keys to his grandmother's sport utility vehicle, backed it out of her driveway and took off.

Mayne, I said go straight down the block, run over the old lady's dog and smash on the gas 'fore the coppers come. What the fuck you smashing mailboxes and shit fo'?
That muhfucker couldn't drive for shit... If I woulda waved a Lil' Debbie Cosmic Brownie and a Strawberry Faygo in his face I bet he would've did it right. He drove like a salad bar was chasing him. When we scraped into the Geo Metro I was like, "Whoa... chill out dude." But when he was finna ram into the Hummer I jumped out the window. Last time I get him to do hoodrat shit for me.
I guess what they say is true. Want something done right? Do it yourself. If I commend him for anything, it's for adding a whole new meaning to "rock this motherfucker 'til the wheels fall off"